Fishing Boat Repairs and Modifications.
Fiberglass Boat Repairs in Eastbourne.
We were asked to undertake repairs to the deck of a local boat which involved taking up part of the existing and replacing the plywood, re fiber-glassing the ply and reinstating the non slip finish. The following photos show Leo starting the grinding process and the various stages involved in the repair.
The plywood used was WBP BS1088 marine ply.  Last photo shows the finished job.
A Wilson Flyer at Bexhill.
Were called in to undertake a few jobs on this Fishing boat. The bow roller was breaking through the deck so a 12mm plywood pad was bonded in under the deck and external repairs made, grinding out, glassing, re gelling and finishing. the bow roller was re-fitted.
We also added 4 ribs in the deck area to stiffen up the sides of the hull, formed from foam and glassed over then flow coated.
Red Finn Modification.
A few years ago we were asked to fit these after market Stabilizers to this Red Finn to aid stability when at anchor and to give more lift at the stern.
Sea Monster, a Wilson Flyer in Hastings.
We were called in to undertake some major surgery on this boat when it was discovered the Transom was rotten by the engine fitter who was fitting a new 90hp Optimax, he was unable to do the work that was needed. We cut out the engine drain well and rear deck to gain access. The transom had been bodged in the passed by someone using two part foam, filler and fibreglass with the following results.
After all the grinding and cleaning was done two pieces of BS 1088 Marine Ply were glued and screwed together and fitted to the Transom with a bonding paste.
The ply wood was then glassed over with 600gms Chop strand and 900 x 300 glass cloth using ADX 30 resin. You may think this was overkill but with the size and weight of the engine going on the back we were not taking any chances.
Two of the above photos show the drain well and rear deck back in position ready to be glassed back in.
The engine drain well glassed in and also the finished job. June 2014
The drain well was also glassed on the underside and the deck re-joined and glassed.
Sea Monster again, September 2015
After hitting the beach a bit to hard and fast it took its tole on a repair done by the former owner. The following photos show the damage and the start of the repair, more to follow as the repair progresses.
No Worries 11,  Newhaven, April 2019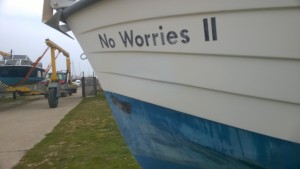 This fishing boat was damaged in a storm while on its mooring in NH, the damage was below the name.
Repair to a fishing boat at Rye Harbour April 2019
Damage caused by the jetty, colour difference is due to the boat needing a clean.