Projects & Work
Tide Chase,  a 75ft Trader.
Tide Chase has been regular visitor to Sovereign Harbour in Eastbourne over the last few years.  As Dateline Marine, We worked with FibreGlass Uk on many different aspects of this very large boat, Gel coat re- surfacing and producing large custom built GRP mouldings to cover the telescopic boarding ladder mounted on the swim / tender platform at the rear of the vessel.
 Lining a Koi Carp Pond
in Brighton
We had a call from a garden landscape company in Brighton with a rush job on to line a large Koi Carp pond asking us if we could do it quickly, it was cold, wet and blowing a Gail and we had to dry it all out with big gas heaters before we started, the whole glassing job took a day and half plus the drying out.
                                                Very happy Fish and customer !
THE PIGEON HOUSE IN FINDON.
MARCH- APRIL 2017
We have been asked to carry out repairs and a colour change to this bespoke roof only trouble is its 60 feet in the air and not a boat in sight !
All the built in gutters had water damage and needed to be ground back and re  fiberglassed, all the joints need resealing and other repairs need to be done. 
The whole roof was sanded back hard to give a good key for the new grey Gel coat to be applied. 
The grey gel and flow coat has now been applied to most of the roof, we have to seal the joints and to fit the new fiberglass cappings (11/04/17)
Joints now sealed and the cappings fitted, Finished ! 20/04/17
SPA POOL AT RIPE, EAST SUSSEX.
APRIL 2018
A badly damaged Spa Pool which needed to be repaired and then re glassed.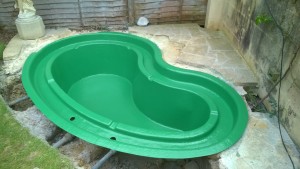 After new Gel Coat here is the finished job.
April 2018
A Dome top Underground Water Storage Tank Herstmonceux
May 2018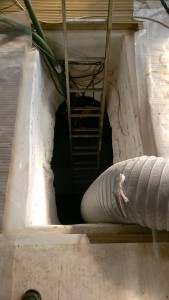 The gateway to Hell with extraction in place. A very hot and uncomfortable job.
New Stainless brackets being fitted to a large overdoor canopy March 2019
The old brackets had failed and rusted through causing the canopy to fall from the wall.